What you can't see through our Windows.
Advanced-technology glass coating that reflects heat back from where it came from (plain glass cannot insulate) 

Multi-chambered insulation in the window sashes

Invisible Argon inert gas that adds to the R-value

Composite material seals that ensure the windows stay airtight for decade
Unique Window Features
Not all glass is created equal.
Heat energy always moves from hot to cold. In winter, low-e glass bounces heat back inside the house, meaning less fuel is required for heating. In summer, the heat bounces heat back outside; less electricity is needed for cooling.
A sash is not just a sash.
Unique frames and sashes contain their own insulation that keeps heat from escaping around the glass. The additional reinforcement also prevents bending and the formation of gaps that bleed energy from your home.
Why we chose thick double-pane windows over triple pane:
Compared to triple pane windows, thicker double glass panes are more stable, meaning they will bend less with changes in temperatures. There is also more space for insulating Argon gas between the panes, which will lower your up-front costs. 
Always remember that every Unique window carries a warranty that never declines in coverage, lasts for the life of your home and is transferable to an heir or buyer.
See below the difference in a warranty that does not decline with time.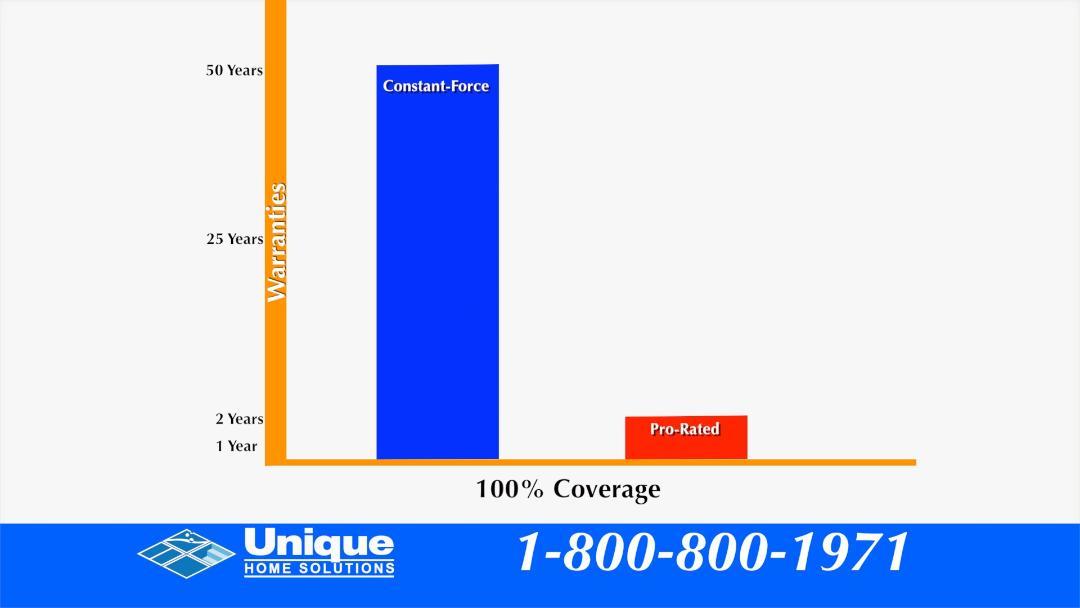 Our windows come in every style, including:
Awning

Bay

Bow

Casement

Double hung

Picture

Sliding
Call Us Today for a Free Quote!
Call Unique Home Solutions today at 800-800-1971 to schedule a free onsite estimate on a partial or whole-house window replacement.