Serving Central Indiana
Whether you use your basement for seasonal storage, a game or media room, bonus space, or bedrooms, you want your belongings and family members to be protected from the damage that basement water intrusion can cause.
At Unique Home Solutions, we provide basement waterproofing designed to safeguard Indianapolis, IN homes from these risks.
Why Waterproof?
Water intrusion can cause extensive damage. Not only can inappropriate moisture levels ruin books, furnishings, and other personal items, but misplaced water can permanently impact your home itself.
When water seeps, drips, or pours into your basement, the flow could leave behind contaminants, encourage mold growth, or undermine the structural integrity of the building. The best way to prevent this type of damage is through high-quality proactive basement waterproofing.
We provide proven waterproofing services. We specialize in waterproofing homes in Indiana in particular. Many of these homes are built with large areas of below-ground-level construction. In these cases, soil density often leads to excessive moisture levels around a house that can turn into leaks or flooding without warning.
Our waterproofing solutions include sump pump installation, interior drainage system creation, and waterproof surface covering installation to protect your home from the most common types of water intrusion.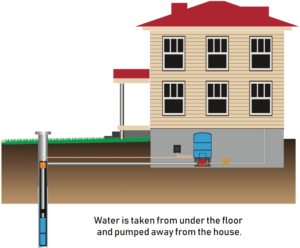 Why Unique Home Solutions?
Unique Home Solutions has served clients in the Indianapolis, IN, area for more than three decades. Each of our team members has the experience and training necessary to assess your home's specific vulnerabilities and provide you with the best possible waterproofing.
We understand how vital our clients' trust is to our success, which is why we never use subcontractors for basement waterproofing or any other tasks. This policy ensures that you know who's handling your waterproofing services from start to finish.
Contact us today to schedule a basement waterproofing service.