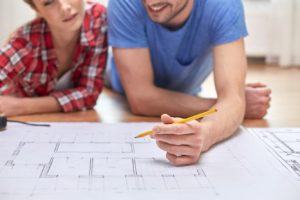 Not every homeowner has the funds, the space, or the patience for a major home remodel. Fortunately, not all remodels have to be so time-consuming or expensive. One simple solution to a variety of needs is the bump-out addition.
What is a bump-out addition? And when can it be most useful to you? Here are a few answers.
What Is a Bump-Out Addition?
Generally speaking, a bump-out addition (or micro addition) occurs when you move an existing wall outward by several feet. The change might be only a few feet in length, or it could run the whole side of an exterior wall. These smaller additions are referred to as bump-outs because they create a bump in the exterior wall.
The big advantage of bump-out additions is that they are tightly contained renovation projects and can be very cost effective. For small- to medium-sized bump-outs, you often just extend the floor joists (up to four times their depth) and supports without adding more foundation slab. The walls are usually a simple square or rectangle, and the roof is extended to match existing materials.
Unless the bump-out is large, you usually don't need to alter the HVAC system, add much electrical or plumbing, or do more than insert additional insulation.
Why Add Just a Few Feet?
In the big picture of your home's square footage and your overall property size, adding 6, 10, or 20 square feet doesn't seem like enough. But bump-out renovations are designed to target a specific space need and should be used where they can be of the most value. For instance, adding as little as 6 square feet to a master bathroom could take an old master suite and give it a luxurious feeling.
The trick to making the contained size of a bump-out addition work is to target the right space. Start by assessing your home's biggest issue. Are your kids outgrowing the existing house plan, for instance? Then consider what you could do with an addition to one exterior wall.
Adding space to one of the kids' bedrooms through a bump-out could allow you to add a Jack-and-Jill bathroom or even split the bedroom into two medium-sized smaller bedrooms. You can even add space to the second or third floors with this method.
Cantilevered bump-out renovations jut out over the first floor, utilizing the second floor's support system already in place. This is often the best solution to space crises in the master bedroom, upper-floor kids' rooms, and upstairs bathrooms. Note, however, that a cantilevered bump-out can only extend as much as 2 feet on an upper story.
What Can You Do With a Bump-Out?
Not sure you how you could deploy a bump-out addition for the maximum value in your house? Here are a few ideas.
Extend the wall near a kitchen to add a breakfast nook or homework area.
Turn a half-bath or powder room into a full bath, making it much more useful.
Add a walk-in closet to a master suite.
Turn an underused guest bedroom into a larger family room.
Create a home office nook.
The possibilities for using a bump-out renovation are only limited by your imagination. Since this addition is more cost-effective in many ways, you can often do more than you would have with a traditional remodel project.
Where Should You Start?
If you think that a bump-out remodel might be the answer you've been looking for, start by meeting with an experienced home remodeling service. At Unique Home Solutions, we can work with you to figure out the most cost-effective and attractive way to solve any home layout issue. Call us today to learn more.